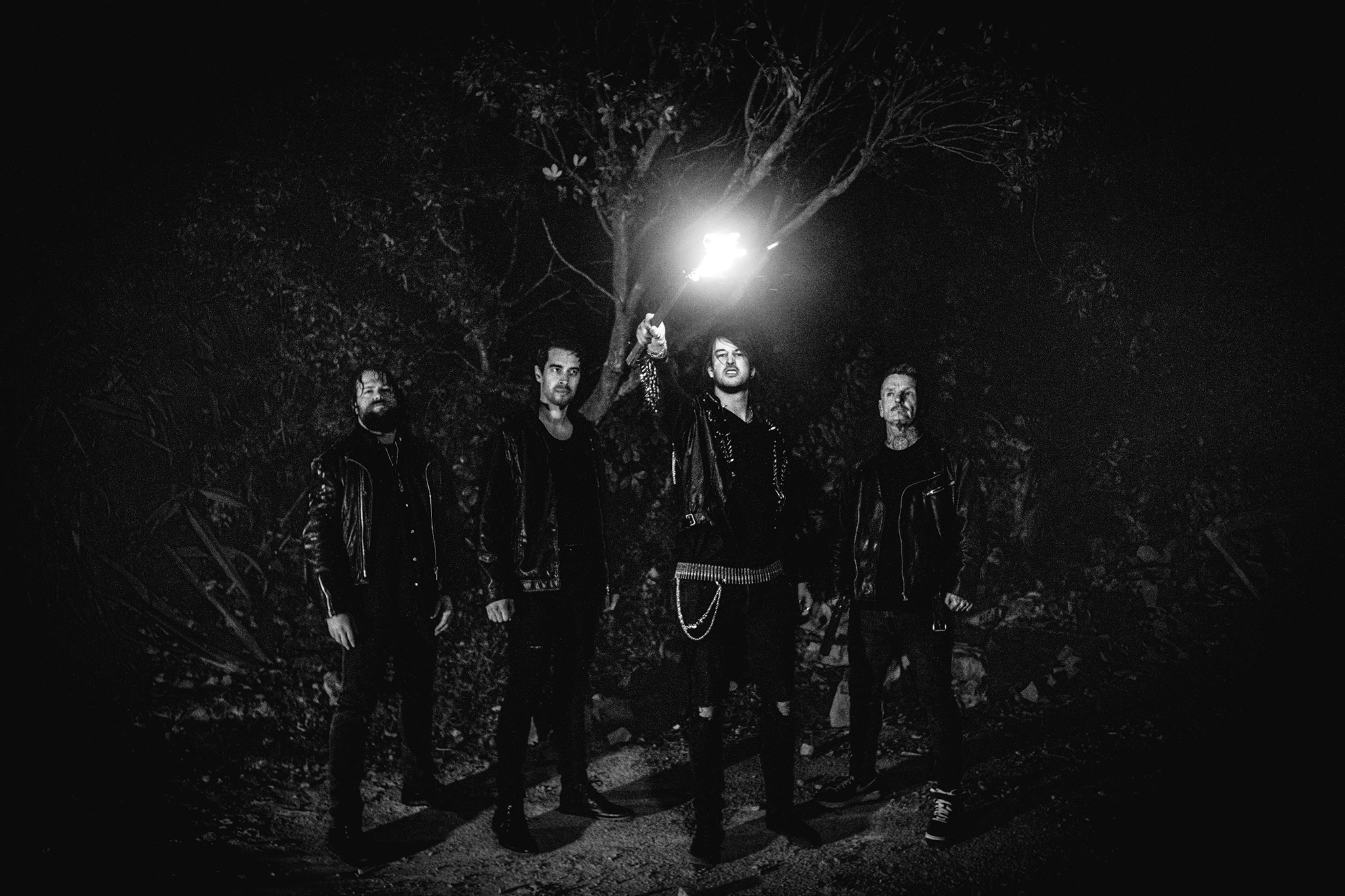 Diego Attinger - Vocals
Josh O'Brien - Guitar
Tim Mekalick - Bass
Steve Francis - Drums
Isaac Lundy - Guitar

Follow us:

www.facebook.com/bulletbelt
www.instagram.com/bulletbeltnz

Booking:

bulletbeltnz[at]xtra.co.nz

Biography:

Bulletbelt has been striking fear into New Zealand audiences since 2009. The Wellington-based band crafts tunes that draw from black metal's vicious realms, with cutthroat and meteoric traditional metal, torrents of thrash, and biting second-wave punk all added in to sharpen the razor. Accordingly, fans of Bulletbelt range from patch-vested veterans to kvlt aficionados and gutter punks, and the reason the band holds that crossover crowd transfixed is simple: Bulletbelt adheres to metal's fundamentals, and its unbridled enthusiasm for the genre's essential aesthetic strengths is obvious.
Bulletbelt is aggressive and impassioned, and in 2012 all of that was captured on its ferocious debut full-length, Down in the Cold of the Grave. Recorded at STL Audio, on the studio's vintage SSL 4000G console, and featuring the artwork of award-winning NZ artist Nick Keller, Down in the Cold of the Grave featured seven tracks of battering aural punishment and drew strong reviews at home and abroad.
In 2014, Bulletbelt returned with its highly anticipated new album, Rise of the Banshee. The release is one of the most triumphant metal albums ever released from New Zealand's shores. It features a more intricate, expansive and savage sound from Bulletbelt, and included the band's first recordings with vocalist Jolene Tempest. Tempest joined a crew of New Zealand metal stalwarts, including whirlwind bassist Tim Mekalick; guitarist Ross 'Rots' Mallon (Pervertor); and former Karnage and Demoniac drummer, and current stickman for Red Dawn, Steve 'Cleaver' Francis.
On Rise of the Banshee, the band holds back none of its myriad influences. Along with the wickedly baleful vocals of Tempest, the album features the punked-up thrash attack of "Deathgasm", black-hearted anthems like "Murderer's Collar" and "Minnie Dean", and a blitzkrieg cover of "Sniper" (originally performed by NZ metal legend The Nod). Rise of the Banshee also features classic metal cover art courtesy of cult New York illustrator Scarecrowoven.
In 2015 the band saw the release of the New Zealand heavy metal horror comedy movie Deathgasm. Receiving its debut at the influential South By South West festival to rave reviews, it features two tracks from Rise Of The Banshee.
2018 saw them release their 3rd full-length album 'Nine Centuries' which continues their unstoppable momentum and further showcases the band's rampant enthusiasm for metal's aesthetic strengths. This was also the last album to feature Tempest and Mallon.
2020 sees the release of the 4th album 'Warlords' featuring the new lineup of founder Francis, long-time bass player Melalick and newbies Josh Obrien (guitar), Paul Roberts (vocals) plus guitarist Andrew Collett (who didn't feature on the album). Warlords is a soaring Metal beast of an album. Full of catchy Metal anthems with a renewed emphasis on hooks and choruses Warlords is Bulletbelt's strongest album yet!
Bulletbelt has toured Australia, Japan and New Zealand and played numerous support slots with visiting international acts, including Sepultura, Carcass, Napalm Death, Midnight, Psycroptic, The Black Dahlia Murder, Impiety, Bolzer, Tragedy, Rotten Sound, Midnight, Municipal Waste, Ringworm, Paul Dianno, and Primate.